I am so excited to be participating in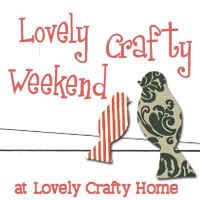 and Nester's
My son is fond of Hank The Cowdog, but there are over 60 books
in that awesome series and
60 x $10 = too much for my budget.
I love to share our passion for the library by making a
Hank the Cowdog Wreath, otherwise known as
a Library Love Wreath, for some of his friends.
I know... what child wants a book as a gift? But when you add
the t-shirt, book bag and playing cards -
the frown turns upside down!
Yes, I'm originally from Idaho and we talk like this.
All you need are the following materials:
Plastic Zipper Case (or a luggage tag would be sweet)
You can find Hank The Cowdog goodies here.
First, tie a piece of fabric to the top
of the wreath so it will hang real purdy-like.
Then just wrap the t-shirt around the top of the wreath
so that smoochie Hank is showing,
and do the same with his book bag at the bottom.
Next, use the fabric strips to tie the shirt and bag in place.
Make sure you space the fabric strips so that you can
Velcro the book, playing cards and plastic zipper bag
to the piece of fabric, not the shirt or book bag.
I have done this before, and it just makes their frown
go from upside down to right side up again.
I use a glue-gun to adhere the Velcro to the fabric strips
and the back of the ribbon used to fancy up
the book, playing cards and plastic zipper case.
Nester introduced me to Miss Glue Gun a few years ago and we
have been inseparable ever since. Miss GG would be in our family
photos, but my husband drew the line at carrying her in my purse.
Once you have Velcro-ed the book, cards and plastic zipper case,
Make a simple card in MS Word that
says something like this:
Put it in the plastic zipper case (or a cute luggage tag) and you are finished!
They can then use this case for their library card.
If you live in the Charlotte, NC, area and would like to check out
Hank The Cowdog books right now from the library,
because you're impulsive, like me, click

here

.
When you give the gift of the library, you are bestowing
a priceless legacy of learning that lasts a lifetime.
Consider Making: a baby book with a diaper wreath,
a blanket & onesie with a Pooh book,
a Princess blanket & t-shirt with a Disney book,
a pair of garden gloves & apron with a Gardening book.
What Library Love Wreath would you make?
Would be honored if you followed me to the library!
Just click on the RSS Feed Link
over on the top right column.
I put together themed collections
Style. Without Spending. Sweet!
xoxo Michele